Redefining quality
Every step of the way
We take great pride in safeguarding People and the Planet. Worldwide, valves are manufactured in distinct ways and procedures. Every step in our production process has two goals: to outclass any quality competition and do so while leading environmental and sustainability practices.
Constant improvement of suppliers
Whether it's our suppliers of raw materials, components, or machinery, we help them raise their quality standards specifically for our products, because we request a quality standard higher than any other client of theirs. 100% of materials and components are Made in Italy. 
Incoming goods control
We perform rigorous checks (visual, dimensional, and certificates-compliance) for all incoming materials, and record them in our customized software. This enables us to reduce waste during machining and therefore save resources, time, and money. Our customers get the benefits of our choices with flawless products, at an ideal quality/price ratio, delivered timely. 
In-process inspections
We do thorough visual and tolerances inspections at the start of any batch production, plus we also perform dimensional and aesthetic checks every 15 minutes. Each operator is supported by our Quality team, state-of-the-art precision instruments, and statistical software for traceability. 
Double testing at assembly
During assembly we perform an initial 3-minute leak test with compressed air up to 4 bar; and torque and thread check with gage and ring tools. All data goes into our statistical software to make root cause checks and capillary traceability of parts produced. This ensures we don't make the same mistake twice. 
24-72 hour ball valves testing
We are proud to perform this unique test with compressed air at 5 bar. The higher the internal volume the longer the duration of the test, ranging from 24 up to 72 hours. We follow the EN331 standard for gas ball valves. Also, we use that same standard for all other fluids like water, oils, etc, because the density of compressed air is low enough to show even micro leaks of the other fluids. 
100% visual inspection at packing
All valves that pass the previous tests receive a final visual check at packing. Because our manufacturing process is so innovative that it has reduced part movement (and thus internal and external dents), discards at this step are virtually zero. Since 1954, we have been delivering flawless products at 99.999% above any market standard.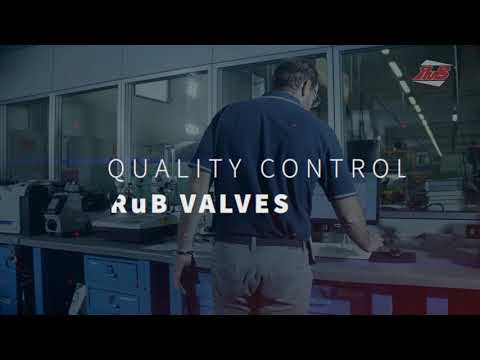 Achieve excellent performance 
with top-notch products
Choose reliable and flawless fluid control solutions.
Choose to safeguard People and the Planet.
Choose RuB Inc.